Real estate prices in Ivano-Frankivsk in 2021: possible expectations for buyers this summer
Since last year, the real estate market has undergone significant changes. Due to the coronavirus pandemic, quarantine and related processes, the mood and needs of customers have changed significantly. The experts will help to understand what is happening now with the housing market in Ivano-Frankivsk, how to protect yourself from possible financial losses, and how to invest profitably in times of instability.
The influence of pandemic
The commercial and residential real estate market is still experiencing the negative effects of COVID-19. This sector is usually the most vulnerable to economic shocks and struggles to overcome the crisis the most. First of all, this is due to the high cost of such commodity. If no one can do without food and hygiene products, then buying a home and a car can be postponed till better days.
With the launch of quarantine, construction companies were forced to adapt to the new operation mode. For the first two months, everyone went online: they provided consultations through video chats and correspondence as well as filmed video reviews of the real estate objects. This way, it was possible to support the real estate market and make some sales. As for the structure of demand, the increase in purchases of commissioned apartments as well as the decrease in requests for participation in shared construction became immediately noticeable. However, the market recovered a few months later, and people started buying housing at the stage of digging a pit again, but only from proven developers with an excellent reputation.
Average interest rates on deposits for natural persons in Ukraine in national currency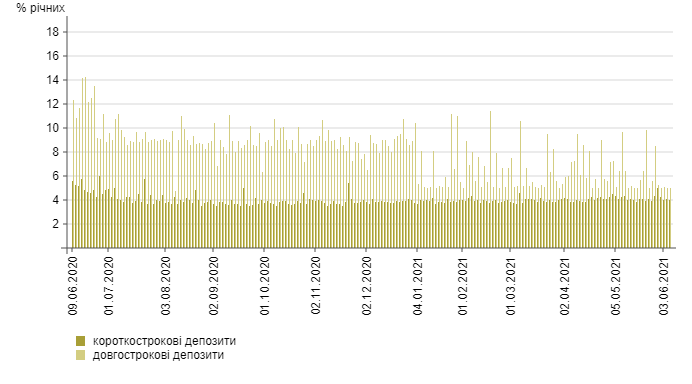 Despite the quarantine, real estate sales increased in all regions of Ukraine last year. Developers with a good reputation have quickly recovered from the economic shocks and continued to sell apartments thanks to well-formed proposals. Clients bought commissioned housing of both comfort class and elite type, and there were those who bought apartments for the purpose of earnings (for further resale or renting out) as well. Due to the pandemic, interest rates on bank deposits dropped significantly, prompting depositors to withdraw funds from their accounts. For example, if the average rate on hryvnia deposits was 12.58% in June 2020, then in the early June this year, this figure was 8.99% (chart from the website of the Ministry of Finance of Ukraine).
Dynamics of the average rate on deposits in 2020: currency – euro, duration – 1 year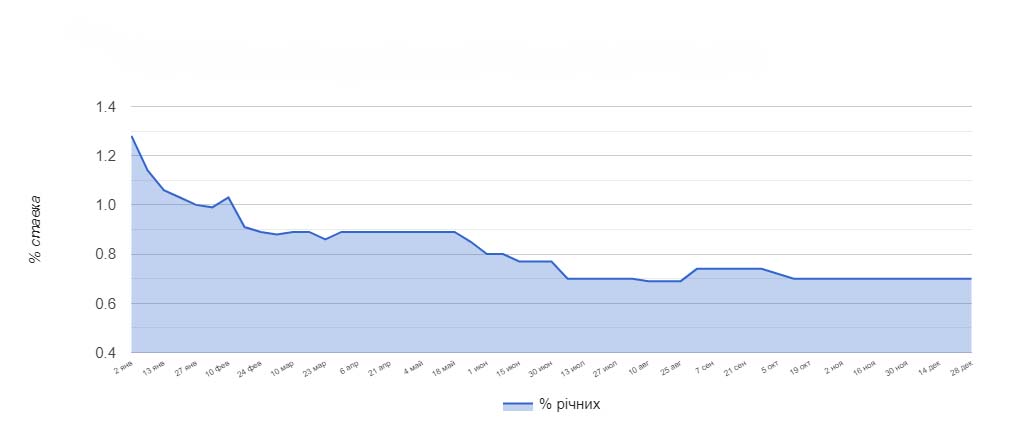 What happens to one-room apartments
Demand for small apartments in Ivano-Frankivsk have remained high for a long time, but there is a noticeable rise in price of this type of housing. First, the cost of building materials is rising due to inflation. According to the Ministry of Finance of Ukraine, the inflation index was 101.7% in March 2021 and 100.7% in April. This means that in monthly terms, the prices increased by 1.7% and 0.7%, respectively. Second, due to interest in small apartments, construction companies are raising prices accordingly. Analysts have noticed that those who want to buy a one-room apartment in Ivano-Frankivsk mostly requested the commissioned housing lately. Some had savings and decided to invest them in real estate, and depositors preferred to invest in housing instead of deposits.
A significant proportion of buyers are workers who went to Poland and the Czech Republic for short-term work in order to purchase housing, as well as those who have been working and living in Italy, Portugal, Greece, the United Kingdom, and the United States for a long time. The managers of the leading construction company blago developer often prepare individual proposals while communicating with customers from abroad.
The last month showed an increase in  the demand for one-room housing purchase through credit programs and installment programs from developers. It is possible to buy housing on credit under the programs Affordable Housing and State Program for Providing Youth with Housing.
One-room apartments and studio apartments in new buildings located in the center of Ivano-Frankivsk are quickly sold out.
When there is not enough space: two- and three-room apartments
Figures for sales of one-room apartments differ in different areas of Ivano-Frankivsk. Premium residential complexes are of interest to many, but in the process of individual selection, buyers often settle on offers of comfort class.
Two- and three-room apartments on the secondary market are of less interest. Typical Soviet houses are inferior to modern new buildings, so they may become cheaper over time, and prices for new apartments will only grow.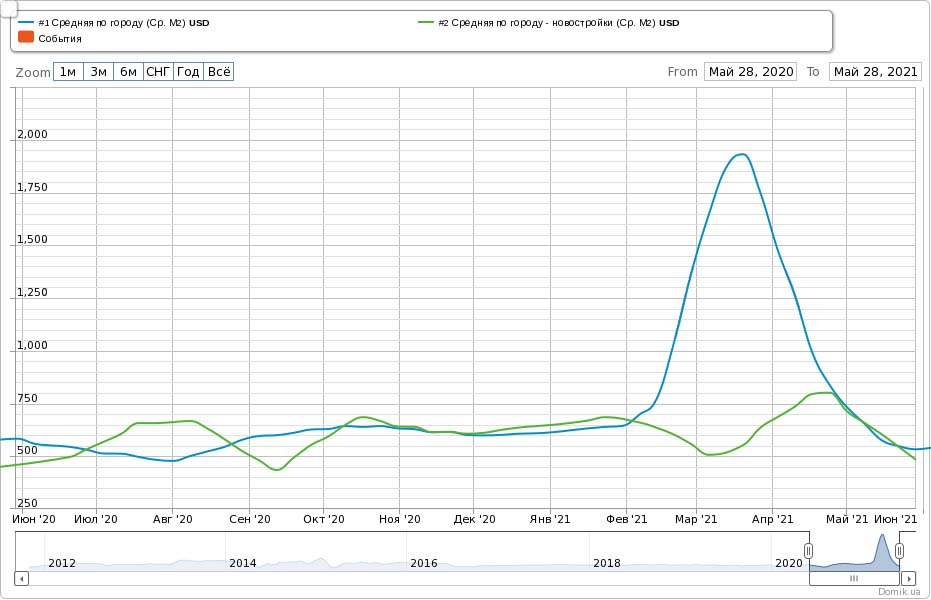 State support as an impact factor
Traditionally, real estate sales fall in the summer. However, experts predict that demand will remain the same this summer thanks to the state program Affordable Housing. We would like to remind you that on May 27, 2021, the purchase of housing became even more realistic due to the adoption of the Law of Ukraine № 1434-IX on the introduction of financial and credit mechanisms for providing citizens of Ukraine with housing. Namely, it covers joining the State Mortgage Institution (SMI) with the Ukrainian Financial Housing Company as well as updating the mortgage program in the residential real estate market. For reference, the SMI has been operating since 2004 and refinances bank mortgages from bonds raised. Ukrfinzhytlo was established in
2020 to implement the Affordable Mortgage program.
According to the adopted Law, citizens of Ukraine can apply for a mortgage with a fixed rate of 7% per annum.
Professional advice
Based on official statistics, apartments in Ukraine have risen in price by 11.6% over the last year. Inflation will remain high, and a possible higher demand for housing on credit will obviously affect the growth of prices per square meter. Therefore, those who want to buy an affordable apartment in Ivano-Frankivsk should not procrastinate and make a purchase now, according to experts.
Real estate agents consider the most profitable option to buy an apartment under construction with full payment or payment in installments from the developer. Thus, the purchase agreement fixes the price, which remains unchanged until full payment.
Sales managers, in turn, noted that each case is unique and requires qualified advice. The price per square meter differs in different locations of the city and depends on a number of factors:
stage of construction;
type of planning;
technical advantages of the residential complex;
infrastructure of the district;
housing category (comfort, business, or premium)
• location of the residential complex.
It is better to discuss all points with the manager of the developer. blago developer has proved itself well in Prykarpattia. The company has been operating in the market for 18 years and achieved the status of a reliable partner. As of today, blago developer is implementing 11 projects and can provide any housing option:
smart-apartments, studio apartments as well as one-, two-, three-room comfort-class apartments in the following RC:
Comfort Park (Pasichna district)
Parkova Aleia (Siechenova str.)
Chocolate (Siechenova str.)
Family Plaza (Kraikivskoho str.)
Manhattan (city lake, intersection of Lenkavskoho and Levytskoho streets)
Manhattan Up (city lake, intersection of Levytskoho and Naberezhna streets)
Main House (city center)
Avtorskyi (Sichovykh Striltsiv str.)
luxury apartments and penthouses
Parus (city lake)
Royal Hall (Shevchenko str.)
• houses in the cottage estate Franko River Club (Siechenova str.)
You can get the consultation in the sales departments of blago developer located at:
35 Konovaltsia str.
21 Sichovykh Striltsiv str.
8 Market Square.
We wish you successful purchases!